How to use metal detectors more professionally ?
Here is a mathematical method that can be applied to almost any metal detectors.It can help you analyze and evaluate a metal detector, but it cannot help you troubleshoot or repair the machine.But it can still do many things, such as:
1, If your standard is 1.5Fe, 2.0NFe, 2.5SS or other, how much threshold should be set on the Metal Detector to enforce this standard ?
2, Many customers like higher sensitivity, but that will result in a higher false alarm rate.In this way, you can choose a more appropriate implementation standard.
3, This method can also be used for real-time monitoring of metal detectors, and promptly warns when a higher false alarm rate, especially a higher missed detection rate occurs.
4, Many users may verify metal detectors every hour. When the standard metal test piece is found to be invalid, the product in the previous period of time should be isolated and re-examined. But generally speaking, as long as it is re-verified, the metal test piece will almost certainly be detected again. Do you know why this is?
There are actually more uses...
You should know there are three sets of data in a metal detector:
1, Product signal value
2, Threshold, it is higher than the Product signal value
3, The signal value of the metal verification test piece. Generally include the signal values of three sets of standard metal test pieces.
So first, we need to analyze the law of each group of signal values.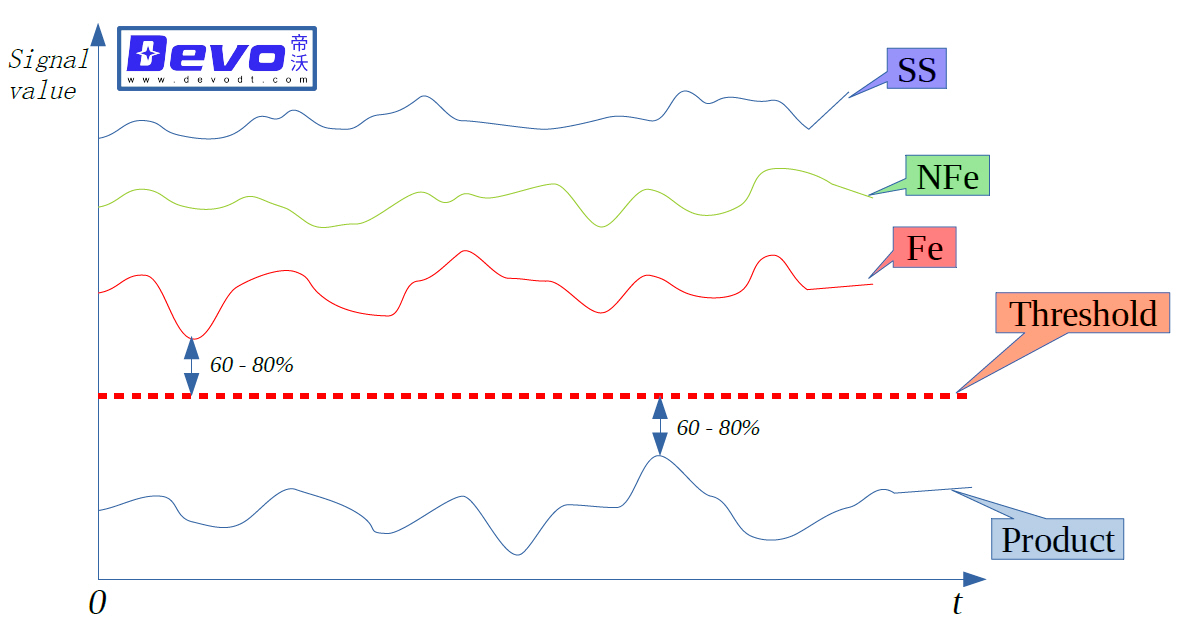 If you don't want to do complex data analysis, here is our recommended estimation formula:
1, The product signal value is recommended to be controlled at 60%-80% of Threshold.
If the product signal value is less than 60% of Threshold, it means that the false alarm rate is extremely low.
And the upper limit of the product signal value, we strongly recommend not to exceed 80%.
Otherwise, you should increase Threshold, because more than 80% will cause obvious false alarms.

2, For Threshold, the truth is exactly the same, it should not exceed about 80% of the smallest signal value of the metal test piece at most.
At the same time, if it is less than 60%, then you almost don't need to worry about the verification failure of the metal test piece.

3, For false alarms, this method of course cannot include various interferences and other external uncertain factors, but if the interference occurs frequently, it is also applicable.

Note:
1, We are currently unable to verify all metal detectors and may have limitations in applicability.
2, 60-80% is a rough recommended range, not an accurate range, but it is enough to make you more professional in the use of metal detectors.
3, Therefore, the actual calculation is not the minimum value of the standard test piece, or the maximum value of the product signal, because it is impossible to know the true minimum and maximum values.
4, But in the future, if this function is integrated into the metal detector, or a separate device is designed, it will be more accurate and reliable.
If you find anything, please contact us. Thanks.
这是一种可以应用于几乎所有金属探测器的数学方法,它可以帮助您分析和评估金属探测器,但不能帮助您对机器进行故障排除或维修,但是它仍然可以做很多事情,例如:
1,如果您的标准是1.5Fe,2.0NFe,2.5SS或其他,则应在金属探测器上设置多少阈值来实施此标准?
2,很多客户都喜欢更高的灵敏度,但这会导致更高的误报率,这样可以选择更合适的实施标准。
3,该方法还可以用于金属探测器的实时监控,并在较高的误报率,尤其是较高的漏检率发生时及时发出警告。
4,许多用户每小时都可以检查金属探测器。当发现标准金属试件无效时,应将前一段时间的产品隔离并重新检查。但是一般来说,只要重新验证,几乎肯定会再次检测到金属试件。你知道为什么吗?
您应该知道金属探测器中有三组数据:
1,产品信号值
2,阈值,高于产品信号值
3,金属验证试件的信号值。 通常包括三套标准金属试件的信号值。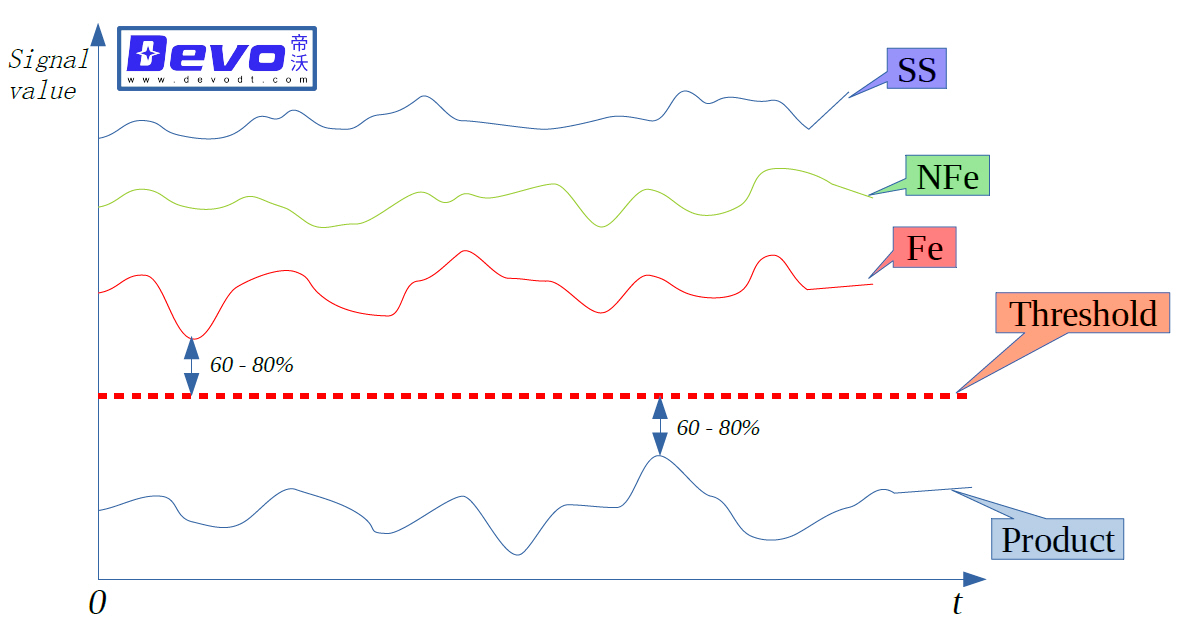 如果您不想进行复杂的数据分析,请参考以下估算公式:
1,建议将产品信号值控制在阈值的60%-80%。
如果乘积信号值小于阈值的60%,则表示错误警报率极低。
并且产品信号值的上限,我们强烈建议不要超过80%。
否则,您应该增加阈值,因为超过80%会导致明显的错误警报。

2,对于"阈值",事实是完全相同的,最多不应超过金属试件最小信号值的80%左右。
同时,如果小于60%,则几乎无需担心金属试件的验证失败。
3,对于误报,这种方法当然不能包括各种干扰和其他外部不确定因素,但是如果干扰频繁发生,那么这也是适用的。
注意:
1,我们目前无法验证所有金属探测器,并且在适用性方面可能会受到限制。
2,60-80%是一个粗略的建议范围,不是准确的范围,但是足以让您在使用金属探测器时更加专业。
3,因此,实际的计算不是标准试件的最小值,也不是乘积信号的最大值,因为不可能知道真实的最小值和最大值。
4,但是将来,如果将此功能集成到金属探测器中,或者设计了单独的设备,它将更加准确可靠。
如果您发现任何问题,请与我们联系。 谢谢。