3900组数据、6000次连续检出以及产品效应的奇特影响
最近在与客户的合作过程中,我们的客户总计记录下了超过3900组数据用于进一步分析金属探测器的可靠性以及进一步的品控管理和改善。
During the recent cooperation with customers, our customers recorded more than 3900 sets of data for further analysis of the reliability of metal detectors and further quality control management and improvement.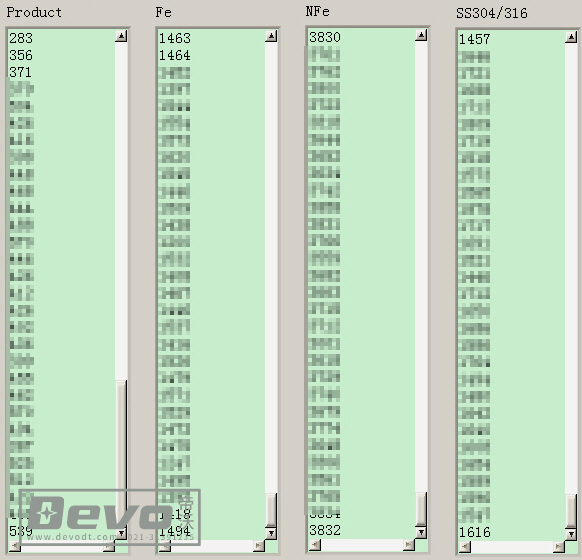 我们依据获取的足够样本数据做出进一步的分析,而不是简单的对已经发生的历史记录的统计!
We make further analysis based on enough sample data obtained, rather than simply statistics of historical records that have occurred!
这是我们区别于几乎所有品牌金属探测器的核心所在。
This is what distinguishes us from almost all brand metal detectors.
也就是说,依据有限的样本数据,我们可以评估更长期的设备可靠性。
In other words, based on limited sample data, we can evaluate the reliability of the equipment in the longer term.
由于我们与当前客户正在合作改善,所以总计3万次仅仅只是我们的第一阶段目标。
Since we are working with current customers to improve, a total of 30,000 times is just our first phase goal.
我们目前已经实现的是连续的、不中断的、持续的——3年、26万次。
What we have achieved so far is continuous, uninterrupted, continuous 3 years, 260,000 times.
我们认为这几乎一定是这个领域的世界水准。
We think this is almost certainly the world standard in this field.
我们还发现一个更奇特的现象,就是不锈钢更容易受到产品效应的影响,而铁几乎没有影响,但是我们不清楚这是否是普遍现象。
We also found a more peculiar phenomenon, that is, SS( stainless steel ) is more susceptible to product effects, while Fe has almost no effect, but we do not know whether this is a common phenomenon.
如果您看到这里,并且愿意彼此分享经验和知识,我们期待收到你的响应(contact@devodt.com)。
If you see here and are willing to share your experience and knowledge with each other, we look forward to receiving your response( contact@devodt.com ).
请看标准金属球的漏检风险分析:

This is the risk analysis of missed detection of standard metal test ball:
上述结果测试条件:
1, Based on the same equipment, metal ball size, parameters and environment etc;
2, The products are basically the same in nature and different in shape;
3, This is the effect of different temperatures;
4, We can't explain this phenomenon now, and data analysis shows the difference.

5, We are also confused about this issue, if you are interested, look forward to hearing from you: contact@devodt.com